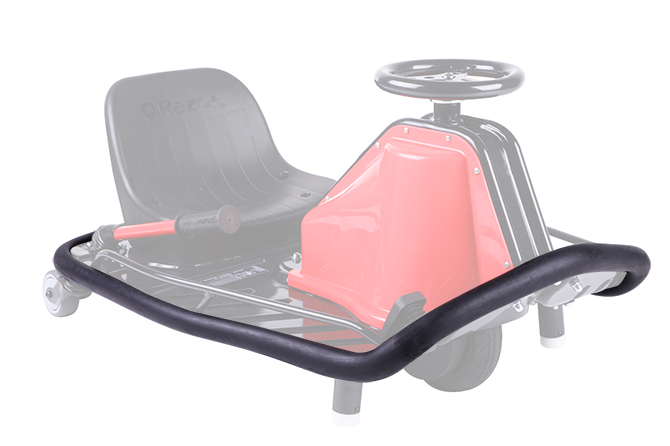 Bumpers RAZOR Crazy Cart
Compatible with RAZOR Crazy Cart
Soft rubber reinforcement bumper
To be installed on the metal frame


Departure from France, Amiens (80)

Delivery : 6 working days
Specially designed for the RAZOR Crazy Cart, our bumpers increase the life of your 3-wheel electric kart.
Avec son renforcement en caoutchouc élastomère, ce bumper absorbe les chocs entre les karts.
Why would I need a bumper for my Crazy Cart?
Our bumpers help protect the driver and the kart during a crash. They are easy to install and make your karts last longer. In case of a collision, you and your kart are protected from possible shocks.

What are the benefits for my Crazy Cart?

Crashkart bumpers improve the comfort of the game when there are several players on the same field or electric karting circuit. Shocks are reduced during impacts and the chassis is much more resistant. The risk of metal bending is reduced and this protection allows you to keep your crazy cart much longer, even for operators who use their park intensively. The impacts are less severe and the karts are more comfortable during races and driving games.
How do I install the bumper on my Razor kart?
We recommend that two of you install the bumper on your crazy cart. First, remove the wheels at the back to facilitate access to the chassis when installing the electric kart protection.Then, one person holds the kart firmly while the other pulls the bumper toward the ends of the chassis. Once installed, enjoy the comfort of the protection.Our maintenance team in Amiens, offers if necessary, to install for you any equipment coming from our store Crashkart.