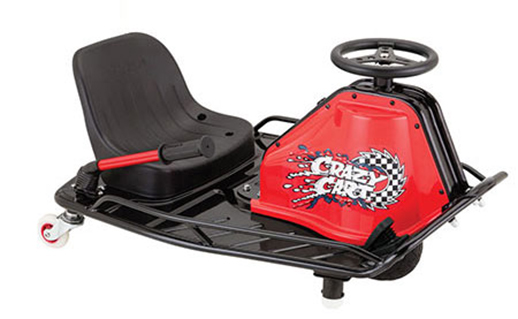 RAZOR Crazy Cart
Weight: 26 kg
Dimensions: 93 x 64 x 46 cm
From 9 years old/ maximum: 63 kg
Maximum speed of 19 km/h
Metal frame and steering wheel
Plastic seat and fairings
Lead battery
Pneumatic front wheel
Two driving modes: normal/crazy-cart with 360° drift bar!


Delivery: 6 working days
Crash KART has thought of the youngest with the RAZOR Crazy Cart, an electric kart that is both fun and innovative.
You can enjoy the thrill of the ride while ensuring your safety. This go-kart has a maximum speed of 19 km/h and is equipped with a drift function thanks to its skid bar. Designed for children from 9 years old and teenagers, it can carry up to 63 kg.
Electric karting has never been so accessible, you can play anywhere and anytime thanks to a unique steering system and a silent electric motor.

The Crazy Cart experience combines comfort and fun, your seat is fully adjustable to all shocks and holds you in the corners. You have a clear view of the track and 360° steering control. The accelerator pedal is located on the front right side of the chassis. This 3-wheeled electric karting model guarantees good stability during drifts.
Its ease of use allows you to be more efficient without any real experience in "classic" karting with combustion engine than in electric karting for leisure or competition. You can use it daily to practice drifting or occasionally to share good times with friends.
The kart is solid thanks to its metal chassis and steering wheel, which ensures good long-term use and outdoor use.

The kart's battery is made of lead, which allows it to deliver a high current quickly: rapid acceleration and a feeling of speed are guaranteed.
Thanks to its front drive wheel and 2 rear wheels, the skidding experience is even more intense and immersive!

What's more, its electric drive reduces noise and carbon free to respect the environment in which you operate.
The seat is comfortable, allowing you to play intensely with your Crazy Cart indoors or outdoors.
The patented drift system allows you to make your best drifts by varying the angle of the wheels and allows you to make 360° turns without losing control of the vehicle.

This activity ensures a good adrenaline rush and total immersion in the game!