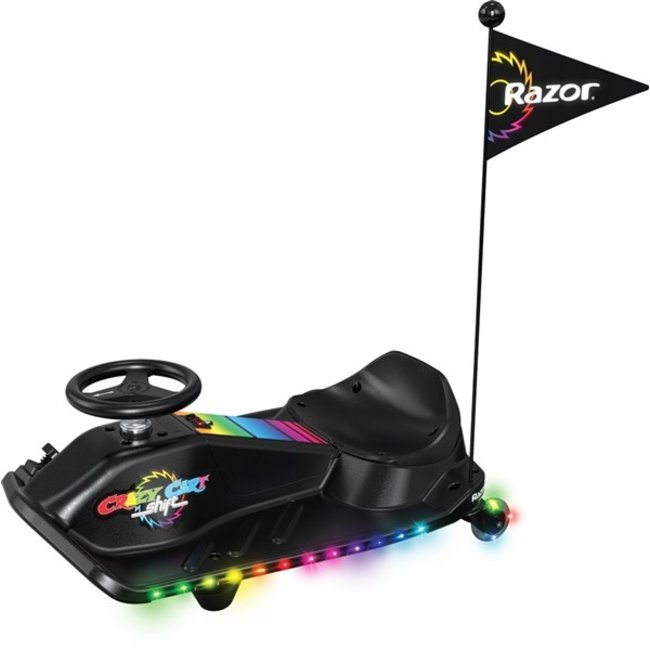 Razor Crazy Cart Shift
Weight : 14 kg
Dimensions: 89 x 62.5 x 34 cm
From 6 years old / maximum: 54 kg
Lead battery
Plastic frame, seat and fairing


Delivery: 6 working days
The kids are also entitled to their dose of drift!
Discover the Razor Crazy Cart Shift, accessible to children from 6 years old and up to 54 kg.
This mini electric go-kart allows you to play both indoors and outdoors. It has a lead battery for an autonomy of about 1h30 / 2h.
This small kart format allows the youngest to reach the accelerator pedal.
Ideal format for children under 9 years old, no noise or pollution.

This 3-wheeled electric go-kart allows you to skid easily thanks to its front drive wheel and provides real sliding sensations. Fun guaranteed!
The steering wheel rotates 360° for maximum drifting.
We recommend that an adult is present when using this fun kart.
The Razor Crazy Cart SHIFT is smaller and lighter than the standard Crazy Cart. It doesn't have a drift bar but its 3-wheel chassis makes it smoother and more fun for the child to skid.
It has a 2-speed switch: a first very slow mode to allow the child to become familiar with the Crazy Cart Shift and a second faster mode.
With the Razor Crazy Cart Shift, your children play a fun activity and you can join them on your Razor Crazy Cart XL to have fun with your family !