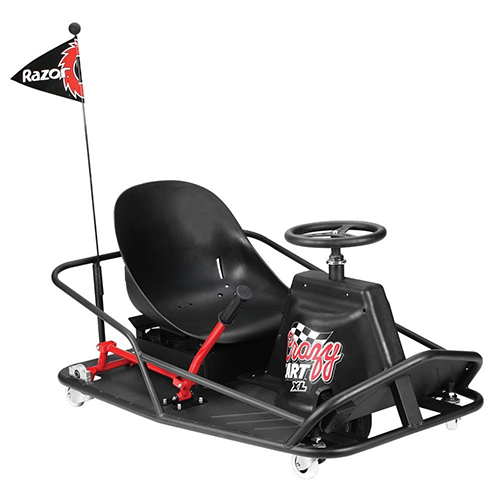 RAZOR Crazy Cart XL
Weight : 58 kg
Dimensions: 116.5 x 83 x 66.5 cm
From 16 years old / maximums 109 kg
Maximum speed of 25 km/h
Metal frame and steering wheel
Plastic seat and fairings
Lead battery
Pneumatic front wheel
Two driving modes: standard/Crazy cart with drift bar for 360 degree skids!

Delivery: 6 working days
Evolving, innovative, playful, tactical, the qualities of karting are no longer to be demonstrated. Our users are our best advertisement.
With our RAZOR Crazy Cart, enjoy a unique experience that combines fun and driving! This kart is equipped with a drift function that will allow you to skid in complete safety. It is suitable for all adults from 16 years old and can support up to 109 kg.
No need to travel to a circuit, you can now have fun near your home.
It has a comfortable seat with an adapted height to have a perfect visibility on your trajectory. This kart has a drive wheel that can be operated with the accelerator pedal to drift up to 360 degrees without losing total control of the electric vehicle.
This activity is perfect for both touring and permanent use on a karting circuit.
The kart is equipped with a lead battery to power the electric motor. The main advantage of these batteries is that they can provide a high current over a short period of time, which is more efficient than an internal combustion engine when accelerating.
There is no noise pollution when using the karts outdoors or indoors because the electric motor is almost silent. Perfect for having fun without annoying your neighbours.
The metal chassis and steering wheel guarantee the solidity of the machine, which ensures that the kart will remain in good working order for a long time.

The pneumatic front wheel absorbs shocks well and dampens clashes. You can ride outdoors on tarmac and concrete, for example. This tyre provides a comfortable grip on the ground, which makes riding easier and more fun.
Moreover, this cart does not emit any gas, being electric, it respects the environment in which you choose to play.
The patented drift system allows you to vary the driving angle thanks to the pivoting rear wheels. This 3-wheel go-kart skids forwards, backwards, sideways, diagonally and 360 degrees.
Sensation and adrenaline rush guaranteed with the Crazy Cart razor XL from the CrashKart shop.