Reinforced RAZOR Crazy Cart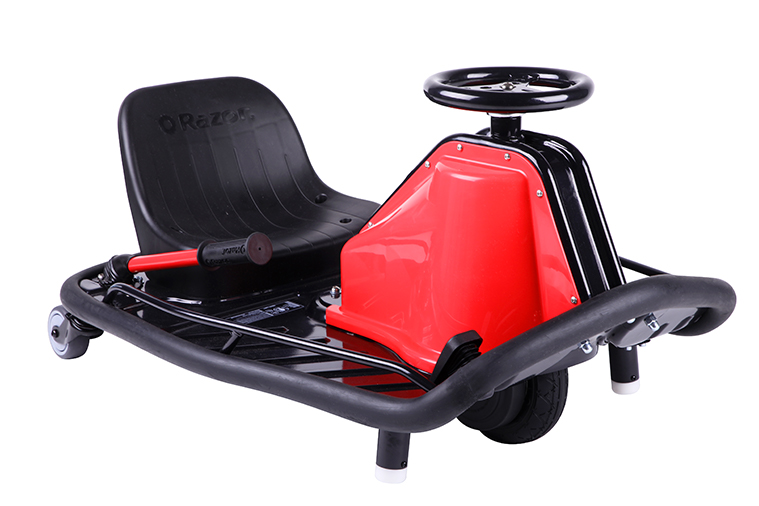 Reinforced RAZOR Crazy Cart
Weight: 26 kg
Dimensions: 95 x 66 x 46 cm
From 9 years old / maximum: 63 kg
Maximum speed of 19 km/h
Metal frame and steering wheel
Plastic seat and fairing + stainless steel screws
Lithium battery
Pneumatic front wheel
Reinforced rear wheels
Two driving modes: normal / crazy cart with 360° drifts!


Departure from France, Amiens (80), delivery : 6 working days
Our team works hard every day to improve our Crazy Cart and provide you with a safe and fun experience using reliable and accessible equipment.

At Crash Kart, our users' opinions are our priority. That's why it is essential to adapt our electric go-karts for all uses: professional or personal.
Our lithium battery will last you up to 2 hours instead of 45 minutes for the original lead battery supplied by Razor. Make the fun last with our reinforced karts!

On this model of electric kart, the fairing must be removed to change the discharged battery. That's why we replace the original screws with stainless steel hexagon screws, to allow you to be more efficient with a better finish on the used material and not to damage the print of the original Phillips screws!
The chassis of our Crazy Cart is equipped with a rubber bumper to absorb shocks and protect the kart from external aggressions. This bumper allows the Crazy Cart to be used professionally or for events.
As the operator, we use and improve our electric 3-wheeled karts to ensure that you get the best possible thrill out of your favourite recreational activity.
This is why we have decided to expand our range to include the reinforced RAZOR Crazy Cart.
This kart can be driven on both indoor and outdoor tracks.
Its reinforced wheels allow the Crazy Cart to be used outdoors, even on worn surfaces.

This RAZOR Crazy Cart is designed for children from 9 years of age up to 63 kg. Its maximum speed is 19 km/h.
Where is the CrashKart reinforced Crazy Cart assembly workshop located?
Our maintenance workshop is located in Amiens. It is in our workshop that our team assembles your reinforced go-karts in order to provide you with a more robust go-kart.
Each bumper, lithium battery and reinforced wheels are assembled by our maintenance team to offer Crazy Cart suitable for intensive or professional event use.
What are the advantages of the reinforced Crazy Cart?
Our improved version of the Crazy Cart has the advantage of having been developed by our operations and maintenance teams. Through feedback from the field since 2018, our workshop has developed a unique kart that meets the requirements of CrashCart facilitators.
The bumpers protect the chassis from collision-related deformation and allow the karts to be used in public events.

The wheel axles are replaced by a more resistant model, which reduces the maintenance of electric karting.

Our improvements make the Crazy Cart an optimised and reliable work tool for professional operation on a circuit or indoor track.
How long does the lithium battery last?
Our lithium batteries built into the Crazy Cart require a charging time of only 1.5 hours compared to approximately 9 hours for the original lead batteries supplied by Razor.

In terms of use, on our events, lithium batteries last 1.5 to 2 hours with intensive use, compared to 45 minutes / 1 hour for lead batteries.

We deliver our batteries with a suitable charger. For a professional operating activity, we recommend the purchase of additional batteries to be able to drive continuously, non-stop.

The integration of stainless steel screws on the fairing of the Crazy Cart facilitates the assembly and disassembly of access to the battery compartment. We deliver with your reinforced electric kart, an adapter compatible with the original Razor controller.